Custom Orders
Clip Art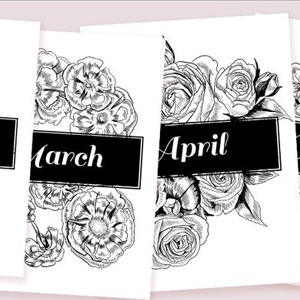 Planners
Digital Papers
Watercolor clipart and graphics for designers, small business owners, creatives, and anyone who loves premium style and elegance.
Digital Press Creation's design resources have thousands of rave reviews from people all over the world. See why for yourself!
---
WHAT MAKES OUR GRAPHICS SPECIAL
300 DPI- High resolution watercolor clipart, resizable graphics for the demands of both print and web.
Hand Painted– Every painting you'll see on Digital Press Creation once was a bunch of pigments on a page. They have been transformed into clipart for you to use in your projects! Would you like to see the process a painting goes under in order to be reborn as a clip art set?
Transparent PNG– Every clipart illustration is a transparent PNG with a transparent background. This allows images to overlap in a natural way, and frees your creativity to explore all the design possibilities with them… because nothing is worse than having to edit your elements.
Instant Download– Get right to designing with an easy, simple download process, so you'll spend less time waiting on emails, and more time in creative bliss.
---
NEW WATERCOLOR CLIPART
---
Digital Press Creation is all over the creative corners of the web. It's origins trace back all the way to 2007 on DeviantArt, when Molly Van Roekel (at the time 14 years old) uploaded her first graphic intended to be a resource for other artists- Splatter Brushes. It has been downloaded over 40,000 times. You can download those brushes for free today, here. Fast forward 7 years. As a sophomore in college, trying to come up with an idea to make rent, she revisited the photoshop brushes that caused such a ruckus- and named her shop Digital Press Creation. Established in 2013 on Etsy, it now is also on Creative Market, DeviantArt, The Hungry Jpeg and Spoonflower.
Digital Press Creation still stays true to the idea that started it all in 2007. Creative people are meant to collaborate.
We are stronger when we learn and grow from each other.
To that end, it's Digital Press Creation's mission to become a hub for creative learning and expression for all. Check out the Tutorials tab for ideas and inspiration, as well as technical knowledge and guidance.
Digital Press Creation gives away freebies from time to time. Some are available to download directly from blog postings, but if you check out the Newsletter and subscribe, you gain access to to a whole lot more of them.
---
SHOW US WHAT YOU MADE!
Are you proud of a project? Did you use clipart, graphics or elements created by Digital Press Creation? Would you like to show them off? Send a note to Molly, and you could be featured on the website!
CUSTOMER REVIEW
I contacted Molly about creating some custom artwork for my wedding invitations and I loved the result. She was easy to work with, and produced her beautiful drawings quickly, which was so appreciated, as we were working against a deadline. I'd absolutely recommend Molly to anyone looking for some lovely artwork!

Sarah